Stop Panicking- Online Writers Will Take Care Of Your Chemistry Papers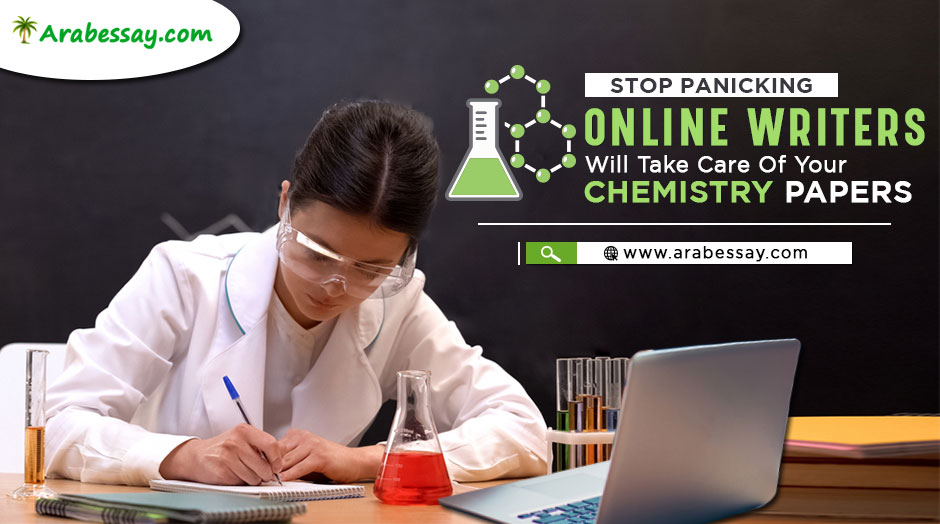 Chemistry involves three different types of writing. These are the Literature Review, Research Proposal, and Research Paper. A student who takes up chemistry major while pursuing higher education might have to learn to write all three types of paper.
To be specific a literature review is the summary of research that has been published by other authors. In some cases, a literature review may also include a review of his or her paper over a considerable amount of time. No experimental data are involved in writing a literature review since it focuses on work that has already been documented and published.
On the other hand, a research proposal is research that an author intends to complete. The focus is to find, gain, or employ. A research proposal uses a literature review to support the proposal along with a compilation of original ideas which is in turn used to expand the field of research. A research paper is comprised of primary literature. The author is allowed to perform original research and communicate its results to the community through his research paper.
In this article, we are going to discuss the common mistakes students make while writing a research paper and ways in which instant essay writers can help them write their dissertation papers.
Common Mistakes Students Make While Writing A Research Paper And How To Avoid Them
Writing a research paper can be nerve-racking for students because of three obvious reasons. First, the introduction requires students to cite a literature review shortly and crisply which is relevant to the research paper. Second, a chemistry research paper involves students to include results derived through the experiments and also highlight the pertinent discussions. Finally, students are supposed to summarize the purpose of the research in the conclusion and also include the raw data for the reader's reference in a separate section which is known as supplemental information.
Below mentioned are some common mistakes students make while writing these section-
Students often make mistakes in the verb tense. Students need to maintain the same tense throughout the paper. (Finkenstaedt et al. 2020) Generally, a chemistry research paper is written using the past tense. They should also keep in mind that the subject and verb of a sentence should either be plural or singular.
Sentences using there is and should be avoided. Instead "to be" should be used as the main form of the verb while writing the research paper. Extraneous words such as interestingly and surprisingly add very little value to the text and " Very" should be avoided. Students can take the help of Essay Typer from ArabEssay to write a high-quality chemistry paper. They make sure all the above rules have strictly being adhered and the content created is interesting, absorbing, and adds value to the research.
Quantitative descriptors used to write a research paper should be more precise and less subjective. The research paper should carry a formal tone of writing. For example, the word treated can be replaced for reacted to give a formal tone in the writing. Contractions should never be used while writing a research paper in chemistry.
ArabEssay offers instant essay help to students who have been struggling to write a research paper in chemistry. They have a team of experienced writers who assist students in writing the research paper keeping these writing norms in mind. So that the research papers retain a professional look and there are higher chances to score well.
Conclusion
Therefore it can be said that writing a research paper in chemistry can be difficult for students who lack knowledge as it requires students to display the results derived through live experiments in laboratories using relatable literature review as supporting evidence.
Students who feel stuck while writing a research paper can avail online assignment help from ArabEssay. They have a team of qualified professional writers who write high-quality research assignments in Chemistry for students and also give them expert guidance to clear their doubts so that they can submit their research papers within their deadlines without getting into panic attacks.
Reference
Finkenstaedt-Quinn, S. A., Halim, A. S., Kasner, G., Wilhelm, C. A., Moon, A., Gere, A. R., & Shultz, G. V. (2020). Capturing student conceptions of thermodynamics and kinetics using writing. Chemistry Education Research and Practice.