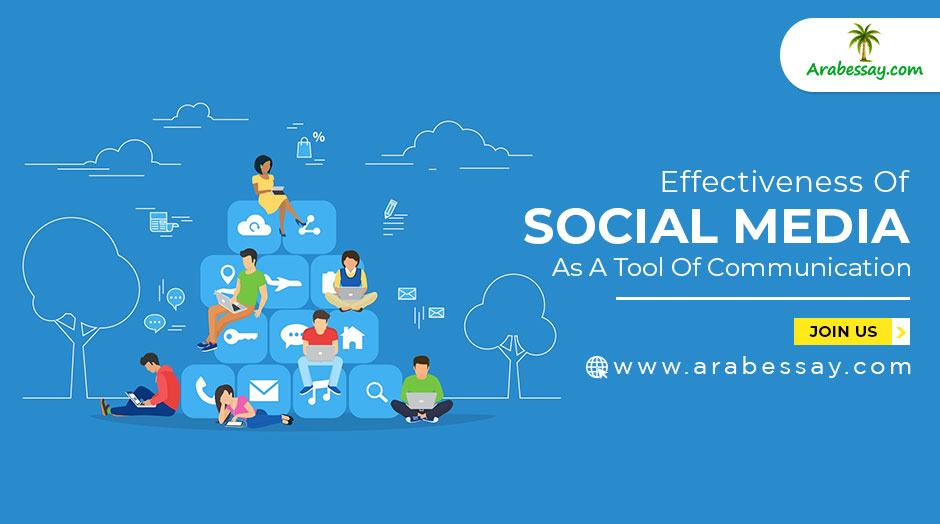 People nowadays use most common forms of post modern communication. Gone are the days of using landline phone or cordless local area network for communication. Now when we talk about online chat for exchanging emails we are actually e discussing about full-fledged form of communication. Modernization of Technology is creating new opportunities of dynamic revolution. Global connectivity has been recently revolutionized in the post modern period by introduction of social media. The fundamental point of advent and expansion of social media started with introduction of Facebook. However the domain of social media is expanded by Twitter, Instagram, and Snapchat and recently by Skype or Myspace (Williams, Saunderson and Dhoest, 2021). It is a free and highly interactive source of communication. Communication and interaction happens within few seconds over social media. The variety of expression and freedom of forms of expression over social media makes it different from the traditional communication media in the previous era. Social media efforts to establishment of connection between people not only through voice exchange but also through creation or sharing of versatile content which can be shared with multiple people at the same time over the same network. Freedom of expansion has been spread across domain and territory with the introduction of free exchange of information and content through social media. Social media is also contributing towards development of virtual communities and development of spontaneous channels over the same network space. Therefore it requires no additional installation or connectivity issues encountered by traditional form of communication like mobile phone network for landline network. Social media has been able to change our lives, as its activities are totally online (Nurhadi, Zahro and Chisbiyah, 2019). It provides people with advantage of online sharing of ideas or information for boys with anybody in any part of the world. Online information sharing has also helped people to increase the scope of communication. It has provided as the scope of not only exchanging words but also detailed content like image or video. Social media has been recently used not only for exchanging opinion and ideas or data (Ramaj and Ukaj, 2018). As per online assignment writer view it also helping in an exchange of professional information like new job openings for creating professional networks. Such ideas gave birth to social media platforms like LinkedIn for monster jobs.
Dynamism In Communication
Sharing of online information increases human communication skill. This form of media has been used for exchange of information among a specific interest group like teacher and students of educational institutions and so on. It is also used for exchange of information between employees and their bosses in offices. The online tools and social media Technology has not only successful in mediated communication in unending number of way but also increased the spontaneous scope of communicating with the large number of people at the same time (Okparaet all., 2021). The advent of social media in a bus company a teacher to send a notice or declaration to all recipients saved as contacts in his or her mobile phone at the same time at the click of one switch. This is how social media added dynamism in forms of communication. In accordance with online assignment help professional impact of social media based communication exchange has accounted for reduction and stoppage of the use of some traditional forms of communication like maintaining landline phones in most households or sending letters. Nowadays letters are only exchanged for official purposes. People are no longer found to deliver personal letters to their recipients. The emerging impact of social media has accounted for bringing about change in communication as well as lifestyle. Since people can heavily and actively communicate with any recipient throughout the world, they can remain connected with others throughout the time (Paladines-Galarza,Velásquez-Benavides and Enríquez-Cruz, 2019). This brought about changes in lifestyle as well. People have started sharing and sending information and messages over the online social media platforms which reduced their tendency of physical meeting. In fact corporate offices have the tendency of organising virtual meetings in order to avoid the resource and organisation cost of physical meetings however accomplishing the objective of meeting at no cost and added convenience. Therefore change in pattern of communication over social media also brought changes in our life style at interpersonal level as well as community level. These fundamental changes define our personality strictly.
Broad Benefits Of Social Media
In this section the broad benefits of social media in the purview of advancing mode of communication will be discussed. Social media has limited the scope of sharing ideas. The social networking websites allows us to share our thought, accomplishment, event, interests, failures, happenings and even our smallest achievements with an individual networks using parallel web source over same platform. The example of WhatsApp status update of Facebook posts can be cited in this regard. Someone who just got his new job offer can let anyone in their personal contact or social media contact list know about the same by simply posting a status update. People having interest in the same area or concern regarding same activities can also establish a network of communication by pondering over the respective status update (Hallerberg,Jayaranjan and Farzana, 2018). The recent in production of short videos enables people to share their feelings and emotions of the moment. Communication is nowadays not only restricted at interpersonal level however broadened to encompass any community or individual with similar interests or similar tendency or similar habits. The analytics and network magnification features of social media websites help the social media account users to successful established communication with like minded people whom we do not know at personal level at all. To know more take essay writing help from ArabEssay experts.
Tools Of Communication
Social media is nowadays used as a specific tool of communication by various active interest groups. An important example in the purview of interest sharing is the active use of social media networks for the purpose of teaching and learning under the current global pandemic situation when there is lock down in most of the countries. Teachers and students are using social media as a communication tool. Hence it is not only enabling establishment of communication but making it possible to accomplish the physical activities which people does in groups. Teachers create multiple chat rooms or discussion forums for respective groups to extend their classroom discussion in posting assignments or test papers or online quiz (Chibuwe, 2020). The active live video features of social media Asus teachers and students in helping them to clarify their doubts regarding lesson and homework outside traditional classroom setting. The students are also able to chat and clear the doubts by speaking with their classroom groups where all other students of the same classroom can discuss concepts over the same line of communication. The same feature is also spectacular used in office meeting. Social media has helped in advancing connectivity to such a level that it supports meeting and discussion between vendor and clients for employee and bosses (Basri, 2020). Various companies are facility and features like online presentation of ideas by making videos and sharing their mobile or laptop screen. This is how cyberspace has developed the potential of representing office spaces as well.
Mitigating Common Communication Gaps
Social media helps in bringing random people together thereby making the world a smaller space. Online people always have the scope of establishing connectivity with other people with similar interests or intentions. This gives birth to virtual community based on sharing common interests (Al Sharafat, 2021). Availability of social media connectivity throughout the day is a common expectation of people nowadays. Therefore, active user interaction and continuous content sharing increases relationship among people. Nowadays a large number of people are able to find their partners from social media. It is noteworthy that social media has absolutely altered the definition of modern communication.
Source Of Crucial Information
Social media is not only a web page communication. It is a repository for random content sharing post of it ranges from sharing of news to sharing of travel videos and pictures. It spans across the scope of playing online games together to that of sending personalized birthday cards to your loved ones. Social media platforms like Facebook are also popular as content sharing platform. Gradually become user friendly with every evolved version of respective applications. Currently Facebook is considered as an authentic and trusted source of news and various information like job openings or event it and gatherings. The users have the liberty of using keywords to search for their expected content. The Boolean algorithm helps people to connect their MI set with their content consumption type of social media (del Rocío Bonillaet al., 2020). This is how people generally get access to the kind of information or news which they prefer to watch. An individual who prefers jokes and funny videos and constantly searches this kind of content in social media will get naturally the best content suited to this content category over his own news feed after about a month. University assignment help experts defined social media algorithms are developed with every passing day with better programming and coding. This is how it is enabling advanced communication. The most spectacular advantage of using social media as a source of active information that is completely free of cost and the range of information over the social media platforms is endless.
Popular Websites And Platforms Of Social Media
Sharing of blogs is the most corporate friendly and topic oriented form of social media communication. It is a space for sharing casual dialogues on random topics or engaging in actively corporate discussions on specific topic within a specific circle of people who gets access to reading the blogs. There are specific websites for sharing of blogs specifically like BlogSpot. However Facebook is the most popular form of social media up to the current date. It is the largest formed global network having over 1.5 billion active users based on monthly count of accounts. It enables users to maximize the personalizing of their individual profiles and communicate most reasonable personal information with the outer world (Khan, Khan and Nawaz, 2019). The process of communicating over Facebook is as simple as any other social media handle. It allows people to add other users as their friends and immediately establish individual line of communication for sharing messages or any other form of content with respective friend. The common status updates of people can be accessed by friends or public users over the respective social media platform however on the basis of privacy preference of the user only. The advanced scope of communication has made social media platforms like Facebook,a preferred modem of product and service promotion by various brands. Large number of modern brands is using Facebook for content marketing. These brands create their respective web pages and operate as active Facebook users under the token name of the brand pages. Twitter has a service scope and user base smaller in context to Facebook however with a specific objectivity (Tasenţe, 2019). It is a social networking or more specifically a micro blogging platform enabling individuals or groups to establish communication by exchange of short status messages. Now it is Twitter is mostly used for scoping and getting in touch which influences are celebrities or focus groups.
Twitter is a remarkable manifestation of impromptu connectivity. Academic writing help expert presented their view and defined it not only facilitates communication but allows people to convey their thoughts or idealise their opinion over anything and everything very quickly. In the same way, Instagram is another social media platform which another unique objectivity (Di Lauro,Tursunbayeva and Antonelli, 2019). It is a free platform for sharing photos and videos. It provides users with large number of digital filters and photo frames or effects which adds the glamour to their photos. Shading of photos or any multimedia content is one of the unique features of dynamic communication which has been made possible by the advent of social media platforms. This spectacular feature is uniquely celebrated by Instagram. People share photos of their explosive memories or post their selfies to let others know about their current mood for the event they are witnessing or participating or places where they have recently travelled. As people go out for dining toenjoy a remarkable palate, they share the photo of the same over Instagram (DePaula,Dincelli and Harrison, 2018). Their friends and family members or random users can comment under their photos to let them know about their opinion regarding the specific food or the restaurant or the destination and so on. Snapchat is another mobile based application allowing people to send and share photo and videos.
Instagram and Snapchat have almost similar kind of users. However the base of users over Instagram is comparatively larger in comparison to Snapchat. Snapchat is popular for clicking photo with unique individual filters. This platform uses artificial intelligence and augmented reality technology to give unique feeling two people who click photos using the filters of Snapchat. It not only enables people to communicate through photos but also serves as a potential form of entertainment. LinkedIn is a fairly corporate platform of social media which is related to professional networking for job hunting and general discussion regarding corporate affairs and activities. Here professionals with similar interests and ideas mostly meet with each other. This year respective information and participate in compatible conversation regarding professional domain or job related objectives.
Alternative Communication Needs
Everything is only a click away for social media users. On the current we communicate with people for everything ranging from listening to news for purchasing our daily necessities. Social media has not only advanced the scope of communication but provided as an option to communicate with large number of recipients. The the simple form of of user interface provides enthusiasm to access various features of social media platforms. The spontaneous connectivity and scope of communication with people for serving random needs has enabled people to contact other social media users' sources for shopping, studying, making booking and so on. Is already discussed how education incorporate multiple social media forms and privileged teachers and students with the scope of creating personalized chat rooms to increase the scope of interactivity among the learners (Madyatmadjaet al., 2020). Colleges and universities use social media platforms to conduct inter college way winners and promotes knowledge through event. Various universities offer online only courses and uses social media as active platform for sharing content and materials for the course. Digital marketing has also sufficed the need of effective communication. People nowadays not required hopping from one shop to another in communicating and networking with various brands and preferred shops. They get all the shops and all favourite products under the roof of the same web application on their smartphones. In fact social media is helping organisations to go beyond the limitation of a specific demographic and geographic boundary and sell their product and services to the global consumer base. Get to know more from plagiarism free assignment help professional associated with ArabEssay.
Making Online Payments
The time when online payments only referred to making payments over the online banking gateway of respective banking institutions is not gone far. However social media has created the scope of developing active personalized payment gateways for any purpose. Online payment scheme is nowadays amalgamated with almost all social media platforms. Hence social media has compensated for the need of communication to make payments as well. Even the basic social networking platforms like WhatsApp have incorporated the option of online payment with the feature of WhatsApp payments with respective application (Tasenţe, 2019). It enables the WhatsApp users to transfer money to any other people with least effort. However the only impediment of the new payment systems is maintaining security standards and updating security protocol to make payments is secured from the threat of digital criminals. Therefore, social media offers the most convenient option of online payments.
Online Healthcare
Social media has altered the way of provision of healthcare services. In contrast to you physically visiting a doctor for treatment, the patients can communicate virtually with doctors and get online suggestion in the form of digital prescription from the doctor based on the health symptoms. Skype is a recent social media platform which provides patients with scope of consulting with doctors over video call for better understanding the treatment needs. It creates scope of advantages for patients who try to avoid paying visit to the clinic (Basri, 2020). However it also involves the scope of cyber criminals where and qualified professionals can register themselves as doctors and provide suggestion through social media platform to patients. However some social media platforms also provide people with the credibility to check the profile of the doctor online. However if it is used sincerely then it will become a beneficial resource for people throughout the world.
Increase Of Civic Awareness
Social media changes the pattern of governance by incorporating more transparency in the process. Various global leaders post over social media to make their opinions heard and priorities noted. The civic influencers try to provide people with a better understanding about government and electrical approach. Social media has also broken the shackles of filtering information from reaching peoples. Social media has provided the news media industry or scope of transparent journalism in contrast to traditional media which is nowadays being moderated and filtered by various influences from government or non government sources (Chibuwe, 2020). However, it can be considered as a change for the better. Nevertheless social media platforms being a free source of media, it is being maliciously used buy large number of entities it to spread effect information therefore creating a great prospect for miscommunication.
Conclusion
The influence of social media has created diversification in communication where quick and critical conversation is easily scoped. On account of world's great impact the employers seek professionals who are properly versed in social media platforms to take on important roles within organisations. In fact the business function over social media is undergoing rapid growth and presents various employment opportunities as well. Social media is providing a foundation for the newfound prospect of communication which liberates us from traditional communication processes and provides us an array of scope for better connectivity.
Reference List
Al Sharafat, A., 2021. How Twitter Has Spiked the Black Lives Matter Movement.
Basri, W., 2020. Determinant of Tendency towards social media tools usage: Moderating role of Trust in Saudi Communication Sector. 2020 WEI.
Chibuwe, A., 2020. Social Media and Elections in Zimbabwe: Twitter War between Pro-ZANU-PF and Pro-MDC-A Netizens. Communicatio, pp.1-24.
del Rocío Bonilla, M., Perea, E., del Olmo, J.L. and Corrons, A., 2020. Insights into user engagement on social media. Case study of a higher education institution. Journal of Marketing for Higher Education, 30(1), pp.145-160.
DePaula, N., Dincelli, E. and Harrison, T.M., 2018. Toward a typology of government social media communication: Democratic goals, symbolic acts and self-presentation. Government Information Quarterly, 35(1), pp.98-108.
Di Lauro, S., Tursunbayeva, A. and Antonelli, G., 2019. How nonprofit organizations use social media for fundraising: A systematic literature review. International Journal of Business and Management, 14(1), pp.7-11.
Hallerberg, S.A., Jayaranjan, M.L.D. and Farzana, S., 2018, March. Face-to-face is the most effective media for communication over social media. In 15th International Symposium on Management (INSYMA 2018). Atlantis Press.
Khan, M.Z., Khan, Q.U. and Nawaz, A., 2019. Role of Social Media in Civic-State Engagement and Political Apathy in New Public Sphere: A Survey of Faculty/Research-Scholars from Gomal&Qurtuba Universities DIK KP Pakistan. Acta Universitatis Danubius. Communicatio, 13(1).
Madyatmadja, E.D., Sano, A.V.D., Sianipar, C.P., Nindito, H. and Bhaskoro, R.A., 2020, August. Factors Influencing the Uses of Social Media within the Government: A Systematic Literature Review. In 2020 International Conference on Information Management and Technology (ICIMTech) (pp. 835-840). IEEE.
Nurhadi, D., Zahro, S. and Chisbiyah, L.A., 2019. A management framework for implementing social media in higher education. Acta Universitatis Danubius. Communicatio, 13(1).
Okpara, C.V., Anselm, U.A., Alphonsus, U., Chidi, U.J. and Gever, V.C., 2021. Modelling the Effectiveness of a Social Media-based Counseling Intervention on Interest, Entrepreneurial Skills, and Behavioural Intention Towards Painting Among Youth Without Paid Jobs in Nigeria. Vision, p.09722629211002314.
Paladines-Galarza, F., Velásquez-Benavides, A. and Enríquez-Cruz, M.J., 2019, June. Analysis of virtual comunication platforms. Case study: communication agencies in Chile. In 2019 14th Iberian Conference on Information Systems and Technologies (CISTI) (pp. 1-6). IEEE.
Ramaj, B. and Ukaj, F., 2018. Review of literature for internet marketing and social media in tourism. Acta Universitatis Danubius. Communicatio, 12(2).
Tasenţe, T., 2019. Social Media Communication in the European Administration. Case study: European Commission. Acta Universitatis Danubius. Communicatio, 13(2), pp.118-129.
Williams, M.L., Saunderson, I.P. and Dhoest, A., 2021. Students' Perceptions of the Adoption and Use of Social Media in Academic Libraries: A UTAUT Study. Communicatio, 47(1), pp.76-94.