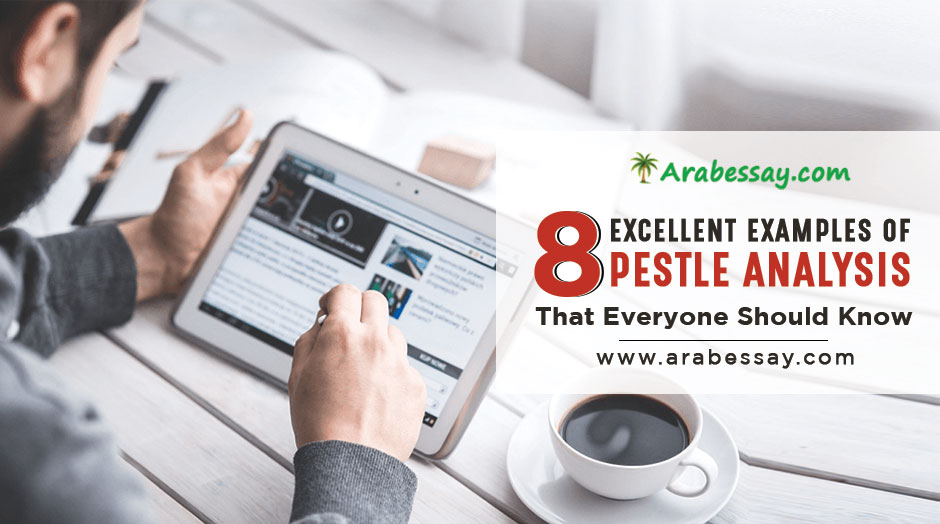 The external environment of a business firm is affected by both micro and macro factors. Factors including suppliers, sellers, customers, competition, and the general public's are micro factors.Whereas, the macro environment factors include demographic, economic, technological factors accompanying with political and legal, and social and cultural forces. These factors and forces are not in direct control of the business firm but it can be analyzed using a tool called pestle analysis. Business firms use pestle analysis to understand and monitor the macro environment factors. The full form of PESTLE is Political, Economic, Social, Technological, Legal, and Environmental.
Previously it was called PEST analysis which stands for Political, Economic, Social and Technological. The Legal and Environmental factors were included later on.
Marketing students often need to give examples on pestle analysis.
In this article we would be sharing eight pestle analysis examples that would help students score well in their marketing assignments.
Factors Influencing PESTLE Analysis
Political Factor– Factors determining the impact of government on the economy of the country, forming the laws, policies of taxation and monitory policies fall under the political factors. Some of the factors that are often taken into consideration are- ideology of the government, the stability in the political scenario of the country, taxation policies, government bodies and their regulatory practices, laid down terms of government along with expected changes to be taken place in the future, and the ideas of the political leaders influencing public. Students can take online assignment help to get a deeper insight on these political factors.
Economic Factors– The factors that are to be kept in mind while monitoring economic factors are-economic conditions of the country, determining whether the current trade cycle is going through expansion or depression, rates of inflation and unemployment, existing interest rates prevailing in the economy, industrial factors leading to its growth,and the potential of customers to spend.
Social Factors– Whatever goes on in the society also has its impacts on the business. The social factors influencing business growth are- market demography, buying patterns of the consumer, religious and cultural factors influencing the business, Influence of media on the state, and current lifestyle trends followed by people. It might be difficult for students to understand the social implications. Therefore it is better for them to take professional guidance from essay writing help for a better understanding.
Technological factors- The changing technology has its positive and negative effects on the business. The technological factors influencing business are – New production of technology, manufacturing technology in order to increase output and lower the production costs, new innovations taking place in the field of technology, patents and intellectual properties, technical maturity.
Legal Factors– Government has made certain laws that are obligatory for companies to follow. These laws refer to the legal factors like- Laws on business and trade, guides and laws on environment to ensure minimizing ecological hazards, guidelines to ensure health and safety of people working for the benefit of the organization, international level agreements on trade and treaties and circulars on regional and local news.
Environmental factors- Environmental factors like issues on environment, energy and power consumption, policies on safe waste disposal ,insurance and dealing with hazardous material help in the smooth functioning of the industry.
8 Examples of Pestle Analysis that Everyone Should Know
States and countries often go through risk and civil turmoil due to the changing political scenario of the world. But, they keep up with the change by making amendments in the political policies of the companies. Political issues like war and terrorism cost time and money for stabilization. Changes in taxation policies make a big difference for the business houses. It impacts the brand, and the global presence of the organization is largely dependent on the rules of taxation and manufacturing set in the country.
Not following the political guidelines may prevent organizations from preventing distribution of their products. For example the quality of Coca Cola is tested by FDA to ensure it is safe for its consumers.
Factors like inflation, unemployment and taxation has greatly influenced the economic conditions in various countries. Instability in stock market has resulted in decreasing growth rates of the world economy, as a result prices of goods and services have gone down.
Big companies like Adidas do not use restricted products. They use sustainable products and closely monitor volatile and organic compound emissions because of which the product quality increases.
The economy of US, UK and other countries are closely monitored by giant organizations in order to stabilize the world economy to increase profit percentage in the sales of products. Organizations emphasize on making environmental friendly products depending on the tastes and preferences of the consumers.
Organizations use new technologies to make the products easily accessible to users. Various companies have launched high-end mobile phones with the latest technology at cheaper costs for individuals like Samsung.
More and more people are becoming health conscious and changing their food habits for a better future. People have started understanding the long lasting implications of health hazards and are bent upon towards staying fit. This has given open arms opportunities to companies like Nike to produce sports equipment's and wares for their customers. User-friendly products are manufactured by these organizations for their consumers.
Organizations use social media platforms to make their products accessible to more and more people. Marketing strategies are used by them to emphasize on the positive aspects of the products. For example apple uses social media platforms to promote its products and despite its higher cost it has managed to develop a brand and is very popular among a particular set of consumers who are more prone towards buying quality and branded products.
Big organizations like Coca Cola take care of the legal factors as well before they plan to expand their business. For example Coca Cola has already taken all legal manufacturing rights to manufacture their new products. Big organizations often keep an eye on the involvement of child labor and employment rules of the countries in which they are planning to do business.
Environmental change is a global issue, so sustainable organizations keep a check to minimize environmental hazards by making environmental friendly goods with the help of biodegradable products.
Conclusion
Therefore we can say that pestle analysis helps to monitor the macro economic factors of an organization in a big way.
Organizations like Apple, Nike, Coca Cola, Adidas and Uber use pestle analysis for their organizational growth and sustenance.
It is equally important for marketing students to understand the impact of pestle analysis on giant organizations in order to gain clarity on how it works. Therefore ArabEssay offers online essay writers who write assignments on pestle analysis for students and give them expert guidance.