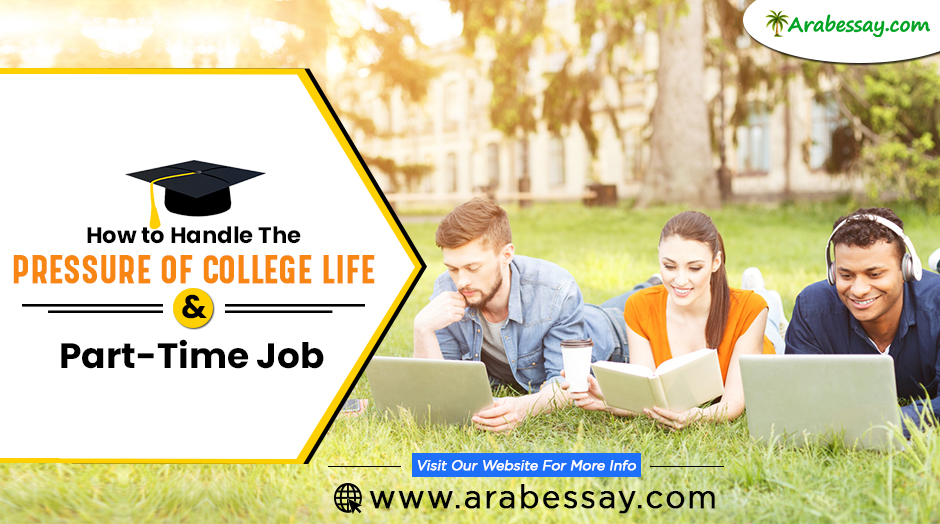 Balancing a job along with pursuing higher education often becomes a reason to worry for academic students and becomes a reason to worry. It has been observed that majority of students suffer from stress, and anxiety and land up dropping from their universities because of not being able to handle the academic pressures which multiplies when they take up a part-time job.
Higher education abroad is expensive and in order to maintain a proper lifestyle and take care of the expenses a lot of students head towards taking up a part-time job to support their education. Because of lack of time and experience they fail to strike a balance between their work and education. In this article we are going to share tips with students on how they can handle the pressure of college life and part-time job. (McTier,et.al,2020)
Easy Tips To Balance College And Work-Life Of Students
Students are loaded with responsibilities during their academic years of learning. The hardest part is managing finances. Students are often seen running their lives on a shoe-string budget because of the heavy college expenses. Another reason why students get into financial crunches is that majority of students take up education loan to fund their education. To deal with the financial pressures and overcome the monetary barrier they decide to take up a part-time job in their campus.
Both as a student and a working professional students face a lot of challenges. Below mentioned are some basic challenges they face in their everyday life when we compare studying VS. working.
Challenges Faced By Regular Non- Working Students
Students who take up a professional course abroad face difficulties dealing with their finances because of the heavy tuition fees. They have to depend mostly on their families to provide them with a financial backup.
Non-working academic students live in a world of illusion because the university life is very different from the real world and when they step out of their universities and enter the professional world they face difficulties adjusting in the professional world.
Non-working students have no prior experience in dealing with real-time problems.
Non-working students lack the much needed work experience. Hence they stand low chances to get a job in campus interviews as because most multinational firms hunt for experienced candidates.
They lack self-confidence and have little but no experience in dealing with working professionals.
Challenges Faced Working Students
Students who take up a part time job to support their education suffer from anxiety due to lack of time.
They are often seen chasing deadlines because of which they have sleepless nights.
They get so much involved in their professional front that they start neglecting their classes. However students can avail homework help from ArabEssay experts.  Where a team of experts assist them in writing homework assignments.
Lack of experience in handling finances causes mis management of funds.
They don't find time to take part in extracurricular activities because of which they miss out on all the fun and studying becomes boring.
Therefore it can be said that both a working and non-working student has certain disadvantages. But if they can balance their professional and academic life they can reap maximum benefits and have a sustainable stress free academic life. Here are some benefits of a student who takes up a part-time job and pursues higher education along with it.
Advantages Of Taking Up A Part Time Job While Pursuing Higher Education
Students who take up a part time job to support their education do not go through the financial strain.
They learn to manage their finances at a very early age.
They get a taste of real time problems.
They can easily adjust in the professional world because of prior work experience.
They get to meet people and build strong networks that help them sail through when they pass out of their universities.
They get witnessed by recruiters and stand greater chances of getting a job in campus interviews.
They learn how to deal with people and situations.
They become more confident and accountable individuals.
Most importantly they get a place to implement their theoretical knowledge.
The key to success is proper time management. Below mentioned are some tips that will help students strike a balance between their professional and academic lives.
Tips To Handle Pressures In Professional And Academic Lives
Look For A Flexible Job- Not all jobs gives students the privilege to work in flexible shifts therefore when students are looking for jobs it is important that they look for a job that allows them to work in flexible shifts. Also students should speak to the employers and clarify the leaves they are entitled to. This will ensure that they would be allowed to go on leave during their exams.
Set The Right Expectations At The Work Place- It is advised that students do not promise to deliver the sky when they are seeking for a job. Don't make promises you cannot keep and most importantly students should take up work much below their capacity. It is important to meet the expectations of the employers when you first take up a part time job but at what level you'd set the expectations is completely a student's choice. Therefore students should focus at setting an expectation they would be able to meet.
Make Time For Yourself- No matter how busy a student's life is they should always ensure they set aside some time for themselves. Students should not deprive themselves from the things they like to do. In case they do that it would distract them and make them lose focus. Therefore end of day they should ensure they have time for every little thing they care for.
Make Good Use Of Your Free Time- Even if a student has very little time balancing between their work and life they still get free time. To strike a balance it is necessary that students make good use of the free time they get. For example when commuting between university and work place they can spend their time reading online or doing their research rather than chatting with the co passengers. It helps them lower their stress levels.
Take External Help For Your Assignments- Students are over burdened with assignments in their university. It is advised that students seek instant assignment help from ArabEssay essay writing help service. They have a team of experts who assist students in writing high quality assignments so that they have adequate time in hand to concentrate on things that need their immediate attention and help them strike a proper balance.
Conclusion
It is very important to strike the right balance whether it is studying in college or doing a part time job outside college. It helps them lead a stress free life. Students can balance their life by following few simple strategies. Firstly they need to find a job with flexible timings, secondly, students should set the right expectations at work, thirdly, students should make time for themselves, fourthly, they should ensure they utilize their free time properly, and finally they should take external help from ArabEssay assignment help in case they feel they cannot deal with the assignment pressures.
References
Connolly, A. The impact of anxiety on college students' academic lives.
GOPALAKRISHNAN, K., POOJA, K., & AMBILY, A. PREFERENCE OF PART-TIME JOB AMONG COLLEGE STUDENTS
McTier Jr, T. S., Smith, C. T., Smith, G., Hodges, A., & Bah, S. (2020). Full-Time Students With Part-Time Benefits: How Being Denied On-Campus Housing Affects College Students With Criminal Records. Journal of College Student Retention: Research, Theory & Practice, 1521025120960667.