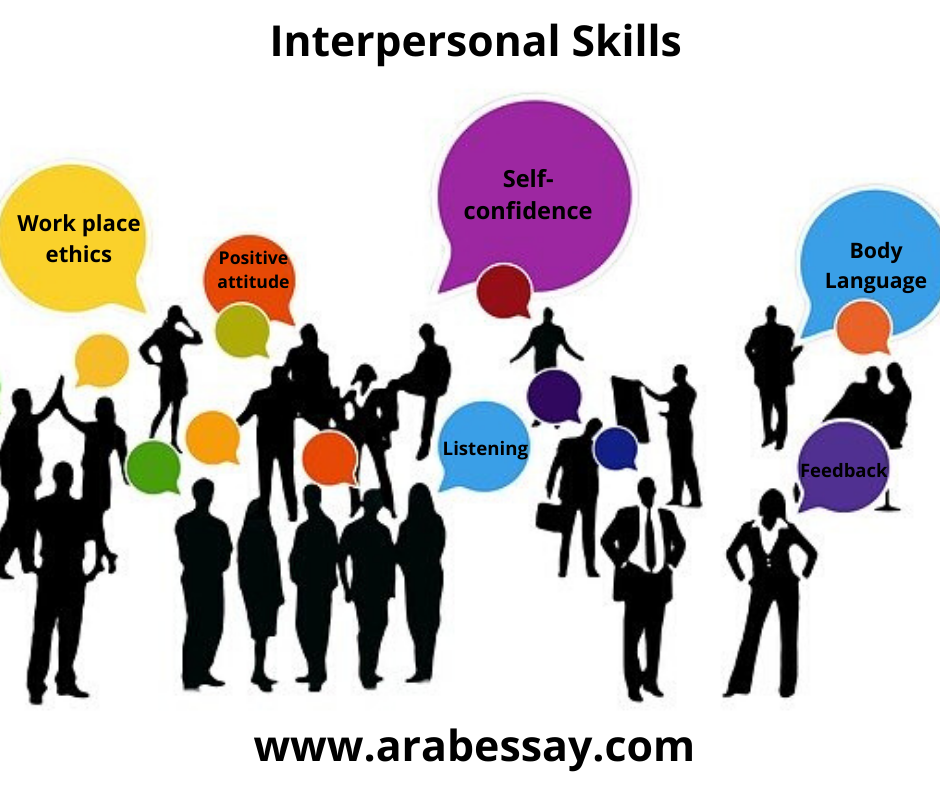 In today's time, interpersonal skills are very important. As it involves the ability to communicate and converse and making a relationship with others. Interpersonal skills are often called people's skills. It helps you in getting and adopted some personality traits and how you people or students know to handle the difficult and puzzling social situations. It is very important for students and for all people to learn effective interpersonal skills. These skills help in communicating with others. It also helps during the job interview. It also helps in positively making your career. Sometimes, you should know how to impress your teachers or colleagues or interviewer. It helps in making a good impact on your career advancement. Interpersonal skills cover a variety of traits and scenarios where communication and cooperation are mandatory. So it is very important to develop interpersonal skills.
Various examples of interpersonal skills are Active listening, Teamwork, Responsibility, Dependability, Leadership, Motivation, Flexibility, Patience, Empathy and many more. In a work environment or in any school, college or university, interpersonal skills is an asset and it will help you in every aspect to navigate complexity, change, and daily activities. Soft skills are also a character trait that helps in determining the relationship with other people.
Importance of interpersonal skills
All aspects of work in every field involves communication. Communication is mandatory everywhere, does not matter you are a college-going, school going, office going or university going person. It is very difficult to carry out any business without communication. Most of the jobs needed collaboration and interaction with the other fellow people but without interpersonal skills, people will not be able to communicate and interact with others. If you are still confused then assignment writers are here to help you and in making you understand the importance of interpersonal skills. Here is a list that describes the importance of interpersonal skills.
Self-confidence
Self-confidence is required in the right amount and right quantity. It also opens your door and helps you in gaining recognition. Self-confidence also helps you in dealing with and approaching social life situations. It will also help you in managing all difficult situations of life and how you will take these situations. Whether you can take them negatively or positively but it depends upon your self-confidence that how you will tackle them and take them. If you want to be a successful person in your life then it is necessary to demonstrate your self-confidence at every stage of life, whether you are needed it at your academics or your workplace. Self-confidence also helps you in dealing with challenging situations effectively and efficiently. It also helps you in making new aims and goals in your life.
Having a strong command over work ethics is what the recruiters require. But what is the work ethics, it can be divided into three, the first is professionalism, second is respectfulness and third is dependability. Professionalism includes everything from how you present yourself in front of the others at the workplace and that way you treat other people at the workplace. The next is respectfulness. In almost all the places you need to work under pressure and it defines how you race yourself under this work pressure and how you will shine by working under pressure. It does not matter how short the deadline is but you need to work with diplomacy and poise. Employers should know they have some employees under them. Hence, it is very necessary to be on time, and maintain every work policy and rule so that employees get motivated and encouragement by their employers.
Managing the relationships
Making effective and efficient relationships is one thing but managing them is a very hard and difficult task. It is mandatory in all the offices and workplaces from junior most level to management level. At each stage in a business or any organization, it is expecting from you to manage all the relations with clients, colleagues, and partners and with others. This is the most important point that comes under interpersonal skills. To manage the relationships, it is necessary to have respect and mutual trust with each other.
Feedback
You should be receptive to feedback, it will help you in developing both professionally and personally. In order to take the feedback positively, you must listen to others carefully and properly. Don't give them an immediate response, just listen to them properly before taking any step. Use this feedback in a positive way so that it will help in improving your performance and productivity further.
Body language
Two types of communication are there, one is verbal and the other is non-verbal communication. Non-verbal communication is frequently overlooked or ignored by the people but at workplaces, it is the most required thing. Your facial expressions can describe your feelings and thinking. You should maintain your posture, gesture, tone, eye contact. These all help in making the impression on others and people start liking the way you present yourself and you will get more recognition.
Listening
The best communicators are the one who listens carefully and properly without interruption in between. If you don't listen to your manager's instructions properly then it will lead to disastrous consequences. It is very important to listen to your manager because if you fail you interpret it wrong and pass the wrong information to the client or others. The others and the client will respond inappropriately.
Collaboration
Collaboration effectively and interaction effectively help in developing a good team and work productively. This effectiveness helps in delivering the outcomes positively for the clients and customers. If you have respect towards each other than this ability helps you in making better collaboration with the team. Most of the recruiters seek those candidates who are having a good track record of working well in a team. They are willing to hire those candidates who are cooperative and compromising in delivering exceptional work. The great selling point is that you can work under challenging situations and being able to collaborate well with others. You need to present yourself in a good manner and you should know how to speak well and enthusiastically for your team members.
Showing appreciation
In almost all the organizations and businesses, employers seek those candidates who show their appreciation. This is very simple, you need to present a thank you when someone has helped you in your work, in your project, with your client and any difficult situations. Showing an appreciation is that you are letting know your colleagues, partners, employees, employers, managers, teachers, professors and all others that you value their assistance and guidance. If your teacher or professor gave you some challenging assignment or task to complete and you are not able to complete it then you can take help from online assignment writers. These writers can help you in every challenging task and you can show your appreciation towards them.
Positive attitude
Attitude matters a lot in every field, in all situations and mostly in difficult and challenging situations. If you carry a positive attitude then you can handle all the challenging situations positively. Be positive if you are writing a covering letter of any assignment and until you get very good grades. Never say anything negative about your past and previous assignment and your teacher or professor. Even if you feel like saying some bad words then never say anything bad about your previous failures and marks. Students who have a positive attitude are more likely to treat others positively and take their work positively. A Positive attitude helps in developing a good relationship with the teachers or professors also. If you think you are still confused about the interpersonal skills then cheap assignment writers can assist you.