10 Crazy Facts about Dubai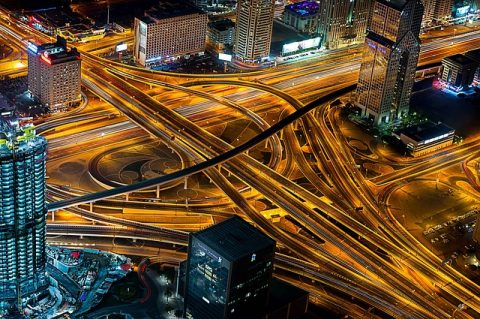 Dubai is definitely one of the most popular cities in the entire United Arab Emirates. This city is known for its over-the-top parties, modern architectures, luxury shopping, and a great lively nightlife.
There are thousands of tourists whom one can easily observe travelling across the city throughout the day. This city is the epitome of comfort and this is definitely one of the most comfortable places which exist in the world in this day and age. But this city is more than just its great parties, architecture, and shopping experience. This city also has a rich culture, an intriguing history, and some of the never ending facts which are bound to amaze the readers to no end. In this article, the readers will get to learn more about some of the craziest facts about Dubai. But before proceeding to those facts, it is important for the readers to learn about some of the basic information pieces related to Dubai.
Dubai: The City of Wonders
The United Arab Emirates is comprised of a total of seven emirates. And Dubai is just one of the parts of those seven emirates. Located just on the southeast coast of the Persian Gulf is the capital city of the Emirate of Dubai. It is the most progressive and modern emirate and is also often considered as an independent city-state. This city is also considered as the hub for trade and tourist centres. Dubai also experienced a global economic crash in 2008 but that has not taken anything out of the superb infrastructure and the excellent tourist amenities which are offered by this city. This city can also boost of largest immigration population of the entire world and is also the city of superlatives.
The Orientation
Dubai is also divided into various municipalities and multiple districts. And some of those municipalities and multiple districts are mentioned below.
Jumeirah: This a diverse district in which the residents are mainly Filipinos, Pakistanis, and Europeans. This district provides easy access to the beaches and is also famous for its beautiful villas. The top attractions in this district are Jumeirah mosque, Jumeirah beach, and Jumeirah Beach Residence's the walk.
Downtown Dubai: Deira and Bur Dubai are traditionally considered as 'downtown' but this downtown Dubai district is located right in the center of the New Dubai. The major attractions of this district are the Dubai Mall, the Burj Khalifa, Dubai Fountain, and many hotels and skyscrapers.
Dubai Harbour: This district is set of open in 2020 and is bound to be an innovative, iconic, and luxurious waterfront development. This would further help Dubai to attract more tourists and also expand its global hub of marine tourism.
Dubai Marina: This district is famous for its excellent hotels, restaurants, and skyscrapers. There are frequent shows and open-air markets which are held in this place constantly throughout the year whenever the weather would permit.
Satwa: This district consists of a higher population of Filipinos and Indians. That is why this district is also known as Little Manila and Little India. This district is famous for its Indian restaurants, supermarkets, and shops. People usually come to purchase textiles and gold in this district.
Karama: This is the most commercially mixed districts in Dubai and it is a great place for all tourists to find cheap buys and eats.
Bur Dubai: This is a historical district which is famous for its floating restaurants.
Bluewaters: This district provides everybody with a vibrant lifestyle in terms of various options like retail, residential, entertainment, and hospitality. This place is bound to spoil everyone that is here with its abundant choices. It is also known as the shopper's paradise.
Deira: This is a bustling commercial center which is also known as being the old financial center.
Emirates Hills and Arabian Ranches: These are two separate districts which are known for its overly pricey residential areas.
Midriff: This is a rather newly-build commercial resident city. The major attraction in this place is the Midriff City Center. This area is also rather expensive.
International City: This is a simple residential area which is known for its vibrant and beautiful architecture. The residential rent here is rather cheap and there are also many Chinese men and women who reside here.
Jebel Ali: This is a major residential and industrial hub which was once isolated.

In this discussion, there will be a discussion on the top 10 crazy facts about Dubai. Those 10 crazy facts about Dubai are mentioned below.
The Gold in Burj Al Arab
Almost 1,790 square meters of 24-carat gold leaf is used to decorate the interior of the Burj Al Arab. With this much gold, an individual can cover the Mona Lisa painting 46,265 times.
The Cranes of the World
Dubai is a city which is growing constantly and this development is happening so fast that almost 24% of all cranes are located within Dubai.
The Sand in Artificial Palm Islands
Roughly 94 cubic meters of sand were used to construct the artificial Palm Islands in Dubai. This much cubic sand can be used to fill the Empire State Buildings almost 2.5 times.
The Super Cars of the Police Force
Super cars are used by the police department to impress tourists and show them how impressive their city is. The list of these super cars includes Aston Martin One-77, Lamborghini Aventador, and Ferrari FF. All these cars cost more than the cost of a four year education in one of the most expensive universities in the USA.
Dubai's Population
According to a study, only about 15% of the total population in Dubai is Emirates while the remaining 85% consists of only foreigners.
Robots in Camel Races
Camel racing is a sport in Dubai which is incredibly famous. Earlier children were used to participate in these races and that also lead to a hike in the number of child laborers. However, now robots are being used to replace children in such races.
A Climate Controlled City
Dubai is planning to build a climate-controlled city which is 4.45 square kilometer in size. The sections of this city will be connected by air-conditioned sidewalks. This city will be almost 2.25 times larger than the size of Monaco.
The Lack of Addresses
Dubai had been growing at a very fast pace and because of that, it lacked a standard address system until recently.
Lack of Income Tax
Dubai offers attractive salaries to its working force and the members of that working force do not even have to pay an income tax.
The Love of Gold
Dubai loves gold and this can be quite apparent from the fact that there are ATMs in Dubai which literally dispense gold. A total of 40% of physical gold was traded in Dubai alone in 2013.
These are some of the most interesting and crazy facts about Dubai.
The Conclusion
Dubai is one of the most famous and popular cities in the United Arab Emirates. This city is famous for its rich culture, happening nightlife, modern architecture, and shopping options which can assuage anybody. There are many districts of this city and some of those districts are Bur Dubai, Downtown, Bluewaters, Deira, Dubai Harbour, and many other districts. There are many crazy facts about Dubai and some of those facts include the crazy love of gold in Dubai, robots being used in camel races, the lack of a standard address system in Dubai until recently, the lack of no income tax, and many other crazy facts.
The References
https://www.spendlifetraveling.com/10-crazy-facts-dubai/
https://en.wikipedia.org/wiki/Dubai
https://wikitravel.org/en/Dubai
https://www.tripadvisor.in/Tourism-g295424-Dubai_Emirate_of_Dubai-Vacations.html
https://www.forbes.com/sites/simonconstable/2019/02/26/multi-billion-dollar-debt-crisis-looms-for-dubai/
https://www.thedubaiaquarium.com/
https://www.boatshowdubai.com/
https://www.emiratesholidays.com/in_en/destination/middle-east/dubai
https://www.bbc.com/sport/tennis/47394613