How To Write An Abstract For A Lab Report: Useful Information With Abstract Samples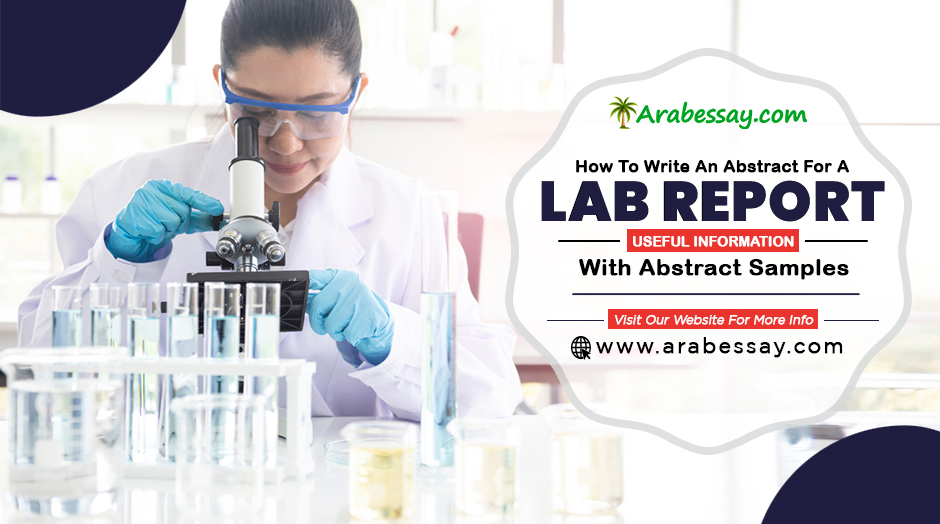 An abstract is a short document that describes four significant aspects of the report begin from purpose of the report, what is finding, the importance of research and at last conclusion. It may include a brief introduction of research methodology has been incorporated successfully enables readers whether they should read the whole document or not.
Although logistically abstract comes in the starting of document, drawing information from other section is key features of abstract. It can be a much shorter segment than other parts of the reports. In estimation, the average length of an abstract should be fall under 200 words which should be compact and accurate (Johnson,2003). It has no extraneous information be there clarifies what needs to be included. The purpose of this article is to drawn significant features of a lab report abstract writing addressing problems students faces during its formation-
Types Of Abstracts-
The best attempt to adhere to abstract writing is first knowing its components. As said by essay writer a lab report writing is less to do with researching, despite it tries to validate the principles being stated. Thence the purpose of lab report abstract should focus on proving the principles and stating outcomes or results at the end.
Based on the information accompanies, abstracts divided into two main parts-
Information Abstract
Longer and Informative
Communicate contents of the report effectively
It includes a purpose of the report, conclusion, findings, scope and methodology
Allows readers why they should read the document
It can be of 10% of the report might be lesser depends on the content
It highlights important discoveries
Descriptive Abstract
This includes only purpose, methods, conclusion and recommendation
It is always shorter usually less than 100 words
Tell about the importance of report in fewer words
Introduce subjects to readers
The brief point to keep in mind amid writing abstract is stating information pertinent to subject requirements. It is noted the typical length of lab report abstracts shorter but the length varies depending on the context. According to the McGill library report, 2020, an abstract length should not be more than 200 words. It must be able to summarize the reason behind conducting the experiment (Sturgeon & Ditadi, 2018). Based on the above information, a good and effective abstract should have the following characteristics.
Elements To Make Lab Report Abstract-
As said by assignment help experts, abstract known as a concise summary of the report, then it must be able to define the following question-
The reason behind conducting the experiment
What is the research problem being addressed?
What methods have been used to solve the problems?
What results are obtained after experimenting?
What results convey?
How to improve understanding of solving problems?
Tip- The most important thing students should remember what are the relevant points. If possible write the whole abstract in the last.
Components Of An Abstract-
It has seen a wide range of publication attached documents to tell students, what should be added in the abstract. For example, The Publication Manual of the American Psychology Association provides specific guidelines for empirical papers, theoretical papers, methodological papers, online case study and Lab report on what should be written in an abstract (Porter et.al 2010). In the given below section, assignment writer has discussed the typical kinds of information incorporated in abstract writing-
Context of background information, the specific topic of research and general title
Statement of the problem must be addressed
What is the previous research has been done?
Exigency, main reasons, the rationale behind conducting research,
What analytical methods you have used
Findings results and arguments in short sentences
The implication of findings or arguments
Sample Of A Lab Report Abstract-
To determine the densities of unknown liquid and solid, measuring weight and mass difference techniques has been applied. It has been noted, unknown liquid mass found to be 1.074g/l and density of metal is 7g/ml determined successfully. Water displacement technique was used to determine the density of method.
How To Write An Abstract For A Lab Report- Brilliant Tips Shared By Essay Writer
Neither too much information, nor too little information generalizing the topic. It is essential to balance the content have been covered and how comprehensively it defines the content. It has to be so concise and clear so that readers won't find it unfamiliar
Write in the third person. Replace phrases like ' I found", We found, with "it was investigated" or "this paper provide (Helmenstine and Marie, 2020)
Writing an abstract could be a bad idea, try to write abstract in the last as it becomes much easier to summarize the report when it was completed
Try to insert keywords or key tags, readers could be used to search for your work in the search console.
Lab report abstract has to be self-contained. It should not have extraneous information that might degrade your paper quality else become uninterested. Be sure you have followed multiple checkers before appointing any segment into your abstract which should be relevant too.
Write an abstract from scratch then pare it down to meet the number of words. If you are finding any problem to write impressive lab report abstract, ArabEssay based essay deustch are always ready to write your papers.
Conclusion
This article has highlighted what is the role of the abstract in a lab report. It can be concluded from the above information an abstract summarizes entire paper concisely having no extraneous information. Depend on the abstract featured; it is divided into two segments first informational second description. On that note, an abstract length should not exceed more than 200-300 words. Further few tips on how to write abstract have been shared such as insertion of key tags, using the third person to direct the readers. In case you have any doubt, ArabEssay based assignment help and essay typer should be the best choice as they always try to provide the best assignment structure at the minimum budget.
Reference-
Johnson, A. P. (2003). A short guide to academic writing.
Sturgeon, C. M., & Ditadi, A. (2018). Let me speak! A reviewers' guide to writing a successful meeting abstract. Stem cell reports, 11(6), 1324-1326.
Porter, R., Guarienti, K., Brydon, B., Robb, J., Royston, A., Painter, H., … & Smith, M. H. (2010). Writing better lab reports. The Science Teacher, 77(1), 43.
Helmenstine, Anne Marie, Ph.D. "How to Write an Abstract for a Scientific Paper." ThoughtCo, Feb. 11, 2020, thoughtco.com/writing-an-abstract-for-a-scientific-paper-609106